Gracia "Cianga" Mwamba (Evaristo Prize 2023 Co-Winner)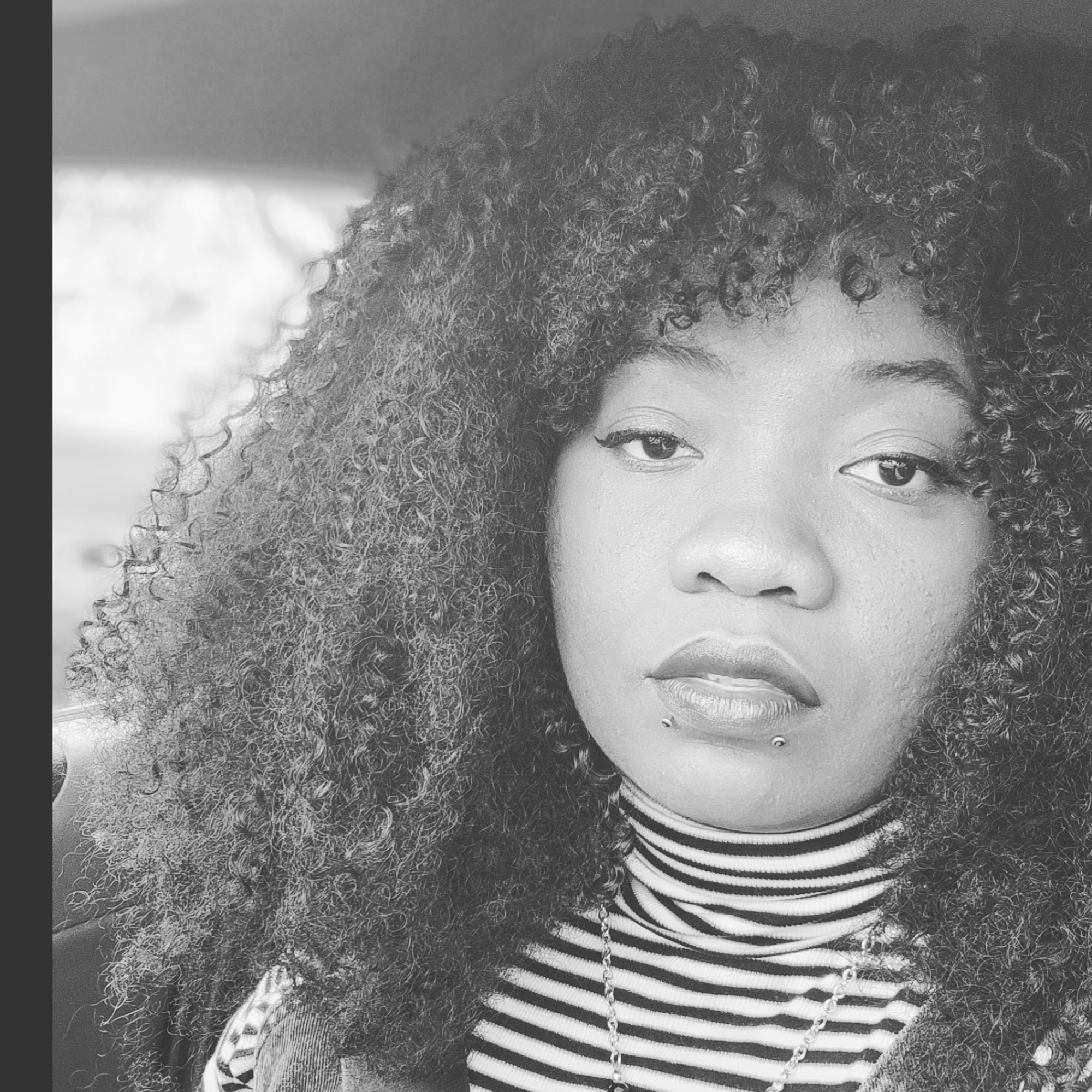 Congo, Seen from the heavens
for Kavira,
[the first Congolese to board a space shuttle is a rat]
i unfold
saliva teeth
gnaw at their flag's skin
floss with the fat
i swelter
rabies, love
homeland's got no food
yet, i fly
i devour
the sky
from the troposphere,
every human is a rodent
i rat
pray
for my freedom warriors
more bone than muscle
i ascend,
poverty's defiance
already, love
i split the sun
---
the monolith & the 15 million
[February 17, 2021:
a monolith appeared in Kinshasa, DRC
tall, silver metal, reflective.
it burned the next day.]
want is a terrifying verb.
need is more familiar:
clawed grip. dagger nails. slow crawl. 'cross crimson soil. cobalt prints.
there's a rhythm to survival.
tempo in the snap back growl tongue.
bang head swing airborne slam soil. halt.
to survive. or to fight?
to despair. or fold. and yell. weak grip. yell and yell. my lord:
the voice box is so well-protected. it dies last.

once. 15 million spirits. flickered out.
Zaire became a battleground. of prayers.
to flesh. and teeth. and uniforms. lord.
to pray to the sole of a shoe.
to sing while your country is ablaze.
when burning:
the voice box is so well-protected. it dies last.


how else. would he. my brother.
work a piano.
like it's made of 15 million notes.
how terrifying. a man can kill. a body.
but not erase a song. from bloodlines.
not sure why.
not sure anyone chooses to be alive. the way they need.
to breathe. gulp air. and mold and gasp coltan. in place of air.
to need air. yet beg. oh lord. this burning.
this survival. outlives the tallest clef.
hell. music hath no fury. like a c#minor. sung. by a band of warriors.
defending their want. in music.
surely. like hell. this desire. unsheaths a machete.
to want. a home.
unbloodied. unbodied. i want.
and want. dagger nails. crawl taut:
i burned the monolith. and its maker. and spit. a choir.
---
justication (golden shovel):
after Franny Choi & Lembit Beecher
"i had to" laughs the
woman. nervous. "had to." her world
now a music box. mechanical. like Papa. keeps
rewinding his breath; prefers a ghost to an ending.
no refugee outlives their ghosts. the world is a phoenix and
Papa is a relic. fit for Louvre and circus in those good pants that kiss the
land. this soil. survived Papa's apocalypse. makes me chimera. makes the world
owned. makes the woman viral. makes Papa a family of stomachs. while the war goes
on.
---
portrait of a decaying mother
palindrome of sorts.
i lost the tracksuit pants. from maman. for the kidnapping. we never made it very far. maybe it was the guilt. she bought me juice from a street vendor. then returned me. the second time, she never let go of me. we bought the tracksuit set. she ironed it for me. she cooked for me. the whole time, she never let go. her hands were hot. her breath was loud. she sang me a lullaby that sounded stupid. she never let go of me. when they came for me, maman screamed. said. she can let go of anything except me. maybe i let go of her first. maybe her hands grew too tired. later, i found myself. in my sister's arms. her hands were cold. her voice wasn't good for lullabies. this is why i remember maman. a woman who loved her daughter enough. to steal her back. i want to find my way back to her arms. but. i cannot speak. this language. i cannot find enough feelings. to learn. i lost the tracksuit pants.
---
the Anger of Man
[know yourself. lest you chicken
you got wings to fly.]
when skin shreds co-pay letters, my teeth
break down my fists. this diaspora.
makes a superhero of my tongue. woe
is my mother. video chats cost bloody cobalt.
i spit a new world when she calls.
i name the ocean between us a child;
capricious; we must learn to discipline
our rage. no one says
i'm so angry i could kiss you.
but i am.
so angry
it's melancholic. to bandage a tongue;
sharpen a feather. as one would a machete.
forget a blade can be windborn. believe
each call is a fight. and all we have left.
---
okra
before my body warped solid, i was a fire
beneath my mother's chipped blade.
gentle callus,
slight scrape 'round charred pan.
i've known you,
from my mother's blood.
known you to deserve cayenne and suya;
a plate well-loved into aging;
slow simmer;
gentle steam to full sweetness.
before a weblog, photograph,
wistful saliva mouth dissects you for profit.
remember, love:
before my body warped solid, i was a fire
beneath my mother's chipped blade.
---
the good soil we own(ed)
when I move to kill The Man,
he kneels, palms gravity;
like he belongs to this good earth.
daring to cry.
wail.
lost his small shop to arson by locals.
says he can't leave his son & daughter.
(my mom had a son & daughter)
The Man
isn't here colonially,
not to steal & kill
but rent and buy till
Kinshasa doesn't smell like me, till
the soil becomes our roof.
The Man says he isn't history and
(show me your hands)
he
is a brown
maybe
two shades lighter than mine.
man
so small
says he's a bottom feeder,
— just wants a place to work
to feed his son, his daughter.
&
i release my grip
unearth my limbs
unloving,
unhating,
just —
that seat he has,
bloodied and all,
that seat
used to be mine.
---
portrait of Lubumbashi, DRC
feces soil a sad attempt of a sidewalk
/
a missionary brings Jesus on a coltan-rich phone
/
everyone's broke, but no one's poor enough to die
/
a rat boards a rocket that erupts, in the name of science
/
a cardboard box can sing, in the right hands
/
there's too much rain for anything to be permanent
/
the sun is Lubumbashi's last defensive architect
/
cities don't cry when it rains, they cry through the blood of children
[ask why all this foreign aid can't fix the smile off a skull;
why the most violent killer in DRC is a child]
all Congolese got beef with some white man
/
i'm no different
/
i'm not really mad, i'm just broke
/
my skin still shrinks when i see a dog fed a child's survival
/
in a city this big, family is whoever remembers you smiling
/
a memory is dangerous when left in a cardboard box
/
a cardboard box is a machete that hasn't grown up yet
/
a cardboard box is a home
/
a city of cardboard boxes is a graveyard
---
beyond measure
i let the spider live
on the ceiling
above my bed
a week. it disappeared.
we all do.
my deepest fear?
to learn my limits
by name.
that spider –
another must have taught it to web.
must have.
i can hardly escape my bed
yet my blood knows:
i am my ancestor's best outcome.
therefore, i am ancestor
to those who must hear:
history doesn't repeat,
but unravels out of itself.
i'm stealing a lullaby
from Leopold
for our children.
we, resilient and fragile –
grains that were plucked and dried
and kneaded alive again.
beloved, we must call our limits
by name.
then,
defy them.
---
erasure of the Congolese national anthem
arise, Congolese,

united by fate, united in the struggle for independence,
let us hold up our heads, so long bowed,
and now, for good, let us keep moving boldly ahead, in peace.

oh, ardent people, by hard work we shall build,
in peace, a country more beautiful than before.
countrymen, sing the sacred hymn of your solidarity,
proudly salute the golden emblem of your sovereignty, Congo.

blessed gift (Congo) of our forefathers (Congo),
oh beloved (Congo) country,
we shall people your soil and ensure your greatness. (30 june) oh
gentle sun (30 june) of 30 june,
(holy day) be witness (holy day) of the immortal oath of freedom
that we pass on to our children

forever.
---
Gracia "Cianga" Mwamba is a Congolese artist based in California, by way of South Africa. A recipient of the Cave Canem + EcoTheo's Starshine & Clay Fellowship, Gracia creates interdisciplinary work that seeks to decolonize and disrupt language. They are currently an MFA candidate and have received residency and fellowship support from UC Berkeley's Arts & Research Center, Brooklyn Poets, and Atlantic Center for the Arts. Her work can be found or is forthcoming in Foglifter Journal, Rappahannock Review, EcoTheo Review and elsewhere.