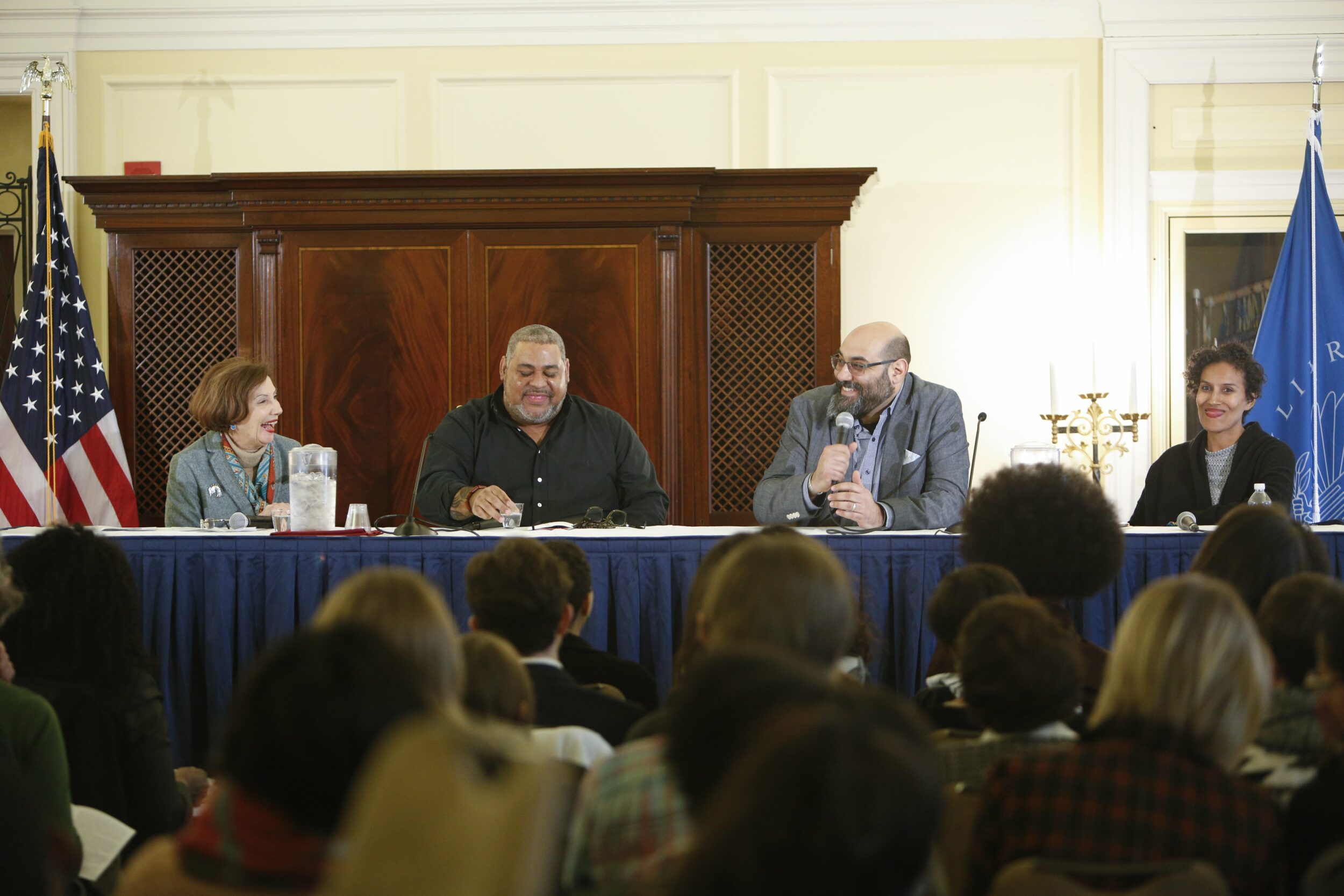 Your Support Makes African Poetry Possible
In 2022, the African Poetry Book Fund (APBF) celebrates ten years of promoting the poetic arts of Africa through our unique initiatives, including publications, mentorship of emerging poets, events and workshops, and more.
The APBF is a small nonprofit organization run almost entirely by volunteers and funded by individual donations and grants. This allows us to focus on our unique vision to publish and promote African poetry. To maintain the accessibility of our prizes and submission periods to poets across the globe, the APBF does not charge reading fees. All these things mean that we rely on the generosity of our community—every donation supports African poets and makes our work possible.
Donations to the APBF support a range of visionary projects, including poetry prizes, publications, local poetry libraries, and more.
Every year, the APBF offers three annual prizes to African poets. The Evaristo Prize for African Poetry awards $1,500 to ten poems by an African poet who has not yet published a full-length book collection. The Sillerman First Book Prize for African Poets awards $1,000 and book publication to an African Poet who has not yet published a full-length collection of poems. The Luschei Prize for African Poetry is an annual post-publication prize. It awards $1,000 to a collection of poetry that was published in the previous year.
To date, we have published more than 110 African poets, transforming the contemporary literary landscape.
Our publications include the New-Generation African Poets Chapbooks Boxset Series, which we collaboratively produce with Akashic Books, and full-length poetry books and anthologies under the African Poetry Book Series, which we collaboratively publish with the University of Nebraska Press.
The African Poetry Book Series fills a gap in the publishing ecosystem. Under its umbrella, the annual Sillerman First Book Prize for African Poets Series, dedicated to publishing debut books, launches careers. Sillerman winners have continued to publish significantly and win major awards and prestigious fellowships in the United States and internationally. Another series is the African Poetry Contemporary Classics Series through which we publish new and selected volumes and collected volumes by major contemporary and late African poets. The Contemporary African Poetry Series publishes volumes of poetry by contemporary African poets who are in the midst of their publishing journeys. Our African Poetry in Translation Series publishes the work of African poets translated from both Indigenous and non-Indigenous African languages.
Our newest series, the On African Poetry Series, is a multi-genre, nonfiction series focused on African Poetry and includes critical studies, biographies, essay collections, and anthologies, among other relevant genres. This series aims to secure the impact of APBF's work in publishing African poetry by ensuring that there is a solid cultural and aesthetic foundation for the appreciation, study, and discussion of African poetics.
The APBF's roles in its partnerships with the University of Nebraska Press and Akashic Books entail the handling of acquisitions, editing, and the promotion of each and every book with a network of outstanding volunteer editors, as well as the payment of a subvention fee to these presses for the production of books. The APBF is also primarily responsible for paying permissions, copyright and reprint fees, fees to translators, and the acquisition fees for cover art for each of these publication. Essentially, the fund was established to subsidize the publication of African poetry and to help create an infrastructure that will ensure that the publishing of African poetry remains a viable enterprise. Much of our work is devoted to securing the funds to support this work.
In addition to our prizes and publications, the African Poetry Libraries project is a collaboration between APBF, UNL Libraries, and various African partners that establishes small, user-friendly poetry reading libraries on the African continent to support aspiring and reputable poets through access to contemporary poetry in books and journals. This project serves as a resource for poets interested in publication in Africa and around the world. APBF partners are currently managing poetry libraries in Botswana, The Gambia, Ghana, Kenya, Uganda, and Togo.
To support our mission, consider making a one-time or recurring gift. Donations will help us cover a range of initiatives; this includes subvention of costs for publishing beautiful and ground-breaking books, the maintenance of existing and establishment of new African Poetry Libraries, and support for our annual prizes. Recurring gifts help us sustain the long-term continuity of our projects and ensure we can keep celebrating the transformative global voices that speak to you. Thank you!
All gifts are tax-deductible. Our online donations are processed securely through the University of Nebraska Foundation, with the option to give anonymously or in tribute.
Gifts may also be made via check, which should be made out to African Poetry Book Fund and mailed to us at:
African Poetry Book Fund
110 Andrews Hall
University of Nebraska-Lincoln
Lincoln, NE, 68588-0334

If you're considering making a gift and would like to discuss it in greater detail, please contact us at africanpoetrybf@unl.edu and we'll be happy to talk it through.