---
GBENGA ADEOBA NAMED WINNER OF 2019 SILLERMAN FIRST BOOK PRIZE FOR AFRICAN POETS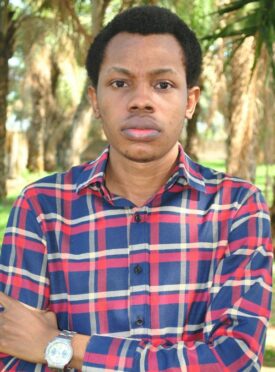 We are thrilled to unveil Gbenga Adeoba as the winner of the 2019 Sillerman First Book Prize for African Poets for his manuscript Exodus. As in the other editions the prize backed by philanthropists Laura and Robert FX Sillerman—as part of their overall funding of the African Poetry Book Fund—the $1,000 Sillerman First Book Prize for African Poets honors the finest first full-length poetry manuscript by an African or poets of African descent and comes with a book publication offer from the University of Nebraska Press.
Gbenga Adeoba was a finalist for the 2018 Brunel International African Poetry Prize and poems published in Oxford Poetry, Pleiades, Salamander, Notre Dame Review, Hotel Amerika, Poet Lore, Among several others. He is currently an MFA student at the Iowa Creative Writing Workshop.
"I'm really honored," Adeoba said. "I know the manuscript is in good hands." For a taste of Adeoba's poetry, check out his piece "A Funeral Hymn in Falsetto" published in Salamander. The poem mourns the passing of a grandparent and manages to simultaneously capture how massive the passing of a loved one can feel while also encapsulating how, as time wears on, a death's impact can feel fainter and fainter. He writes:
I imagined a brood of angels
heralding the arrival of my grandfather
who was migrating in a boat of glass
It is a decade now,
and sighs have replaced hymns
in the order of memories.
Click here to read the poem in full.
The Sillerman First Book Prize for African Poets is judged annually by the editorial board of the African Poetry Book Fund comprising of Kwame Dawes, Chris Abani, Gabeba Baderoon, Bernardine Evaristo, Matthew Shenoda, Aracelis Girmay, John Keene, and Phillippa Yaa de Villiers.
The prize in its seven years, have seen a diversity of winners from Clifton Gachagua in 2013, for Madman at Kilifi; Ladan Osman in 2014, for The Kitchen-Dweller's Testimony; Mahtem Shiferraw in 2015, for Fuchsia; Safia Elhillo in 2016, for The January Children; Bernard Matambo in 2017, for Stray; and T J Dema, for The Careless Seamstress.
We are happy that Gbenga Adeoba's win continues our annual tradition of rewarding great African poetry.
Congratulations are also in order for Emeka Nome, whose manuscript We Need New Moses. Or New Luther King. was named as a finalist. Thanks to everyone who submitted and everyone who continues to support the work of the African Poetry Book Fund!