---
A Demand to Be Apparent: APBF talks with Ladan Osman, Author of The Kitchen-Dweller's Testimony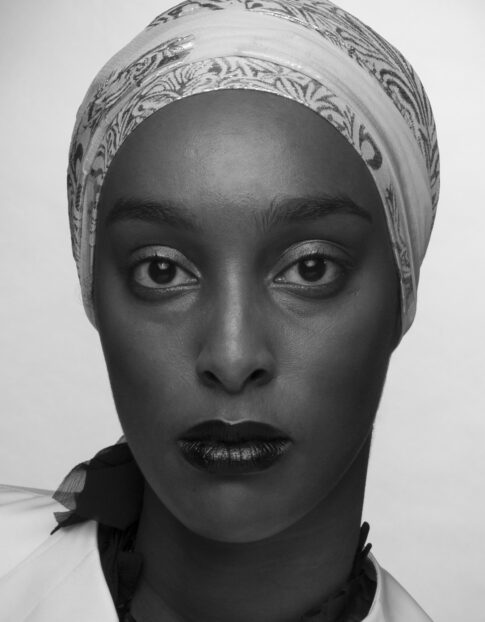 by Brita Thielen
The African Poetry Book Fund is excited to announce the release of Ladan Osman's first full-length collection of poetry, The Kitchen-Dweller's Testimony, which was the winner of the 2014 Sillerman First Book Prize for African Poets. The Sillerman Prize, along with the general work of the APBF, is made possible by generous support from philanthropists Laura and Robert Sillerman, whose annual bequest has continued to fund the work of the African Poetry Book Fund in its publishing and promotion of African poetry.
The official launch of The Kitchen-Dweller's Testimony will occur at a reception hosted by APBF and Prairie Schooner at the annual AWP conference, to be held this year in Minneapolis, MN. Details of the event can be found on the AWP website and on Facebook.
In anticipation of the release of her new book, we wanted to hear Osman's thoughts about winning the Sillerman Prize, her writing process, and a little background on the collection itself.

APBF: Can you describe what winning the Sillerman Prize has meant for you as a poet?
Ladan Osman: Support from the African Poetry Book Fund has meant that my work exists in a context. The APBF editors and fellow poets are a source of moral support and sound professional advice. I've never felt more capable as a writer, reader, and editor. Publicity from the Sillerman Prize invited international recognition. Many Somali websites posted the press release, and people still write to share a sentiment I rarely encounter: that my tribe doesn't matter, that I'm doing work to shift the perspective on a youth diaspora from a war-torn nation.
In the foreword of The Kitchen-Dweller's Testimony, Kwame Dawes writes of the "belief in poetry's capacity to transform through witnessing" that's reflected in your poetry. The idea of "witnessing" also connects to that of "testimony," as referenced in the collection's title. Why were you drawn to these particular subjects?
I appreciate the frame that Kwame's foreword creates. He understands that my speakers may invite observation but are critical of that gaze, as well as its interests and origins. I wanted to ask readers to look, to meditate on the everyday sensual, while meditating on truth and trust. Many times, in writing and everyday life, my own experience of the world is doubted, repositioned. I feel I'm asked to question that experience the most when I'm at ease: Are you sure you're not too oppressed to speak for yourself? Are you sure you're not writing to appease a Western subjectivity? An insistence on giving testimony is a demand to be apparent.
A consistent complaint about my work is the use of "I." As an African woman living in the United States at this time, asserting my voice is often a surrealist enterprise. The argument my "I" makes is necessarily more rigorous than a poet whose identity is mainstream. I'm starting from a place of invention. The act of invention is an act of faith. Belief relies on witness and thrives on testimony.
Do you have any special writing habits or routines?
I like to write for long stretches—four hours or more. It takes time to settle my mind, start to clarify the images that accumulate. It helps to look at visual art on a regular basis and read challenging nonfiction (history and science) or theory. These habits help me focus my voice and consider wider implications in art making.
Are there any poets or writers whose work you particularly admire? What is it about their writing that draws you in?
I'm reading Haruki Murakami lately. I admire that he allows whatever the atmosphere of the story requires. He doesn't seem to interrupt his characters, their internal lives, or their landscapes. Anything is possible in his novels, but that magic isn't contrived. His work meditates on war with total sophistication. His political critiques are subtle and well-considered. They also reach beyond the known world, to private or spiritual realms.
Just glancing at the Acknowledgements section of your collection reveals how much of your poetry has been published in journals and magazines. How does publishing a full-length poetry collection feel different from individual poems?
Publishing individual poems is lovely because I'm used to a lot of rejection. When journals can appreciate the movement of a group of poems and choose to take two or three, I'm grateful that others recognize the choices I made in drafting and sequencing. Publishing a full-length collection is different because a reader can stay with a voice and move across time with it. I think most poems instruct us in how to read them. I hope that readers sense that I'm also learning and have tried to get out of the way, and that they accept mystery and play between pieces and sections of the book.
Are you working on anything new that you're excited about?
I've been working on a lyric narrative of the Somali Civil War since last summer. I'm looking at scholarship and narratives on the conflict, and also parables that speak to archetypes of mischief, truth and reconciliation, and regeneration.
The Kitchen-Dweller's Testimony is now available for purchase from The University of Nebraska Press, Amazon, and Powell's.
Ladan Osman's work has appeared in American Life in Poetry, Artful Dodge, Narrative Magazine, Prairie Schooner, RHINO, and Vinyl Poetry. Her chapbook, Ordinary Heaven, appears in Seven New Generation African Poets: A Chapbook boxed set. She lives in Chicago.