---
"Africa in Stereo" – An Interview with Tsitsi Jaji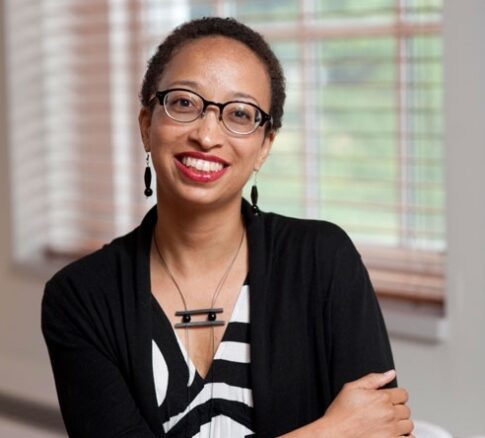 by Brita Thielen
In anticipation of her upcoming lecture and reading at the University of Nebraska-Lincoln, sponsored by The Institute of Ethnic Studies, APBF is excited to feature an interview with scholar and poet Tsitsi Jaji.
The first event, a lecture entitled "Africa in Stereo: Listening for Pan-African Futures," will take place on February 26 from 3:30 to 5:00 PM in the Bailey Library. The second, a poetry reading, will follow from 7:00 to 8:00 PM, in Room A of the Regency Suite in the Nebraska Union. Jaji's poetry has been featured in Prairie Schooner, and her chapbook Carnaval appears in the Seven New Generation African Poets box set, published as part of the African Poetry Book Series by Slapering Hol Press in association with Prairie Schooner and the African Poetry Book Fund (2014). Jaji was also recently named a finalist in the African Poetry Book Fund's Sillerman First Book Prize.
Sponsors of this event include the Institute for Ethnic Studies, the African-American and African Studies Program, the Women's and Gender Studies Program, the English Department, the History Department, the Political Science Department, the Sociology Department, the UNL Faculty Senate Convocations Committee, Prairie Schooner, and the African Poetry Book Fund. Both events are free and open to the public.
Could you give us a sneak peek of your upcoming lecture at UNL: "Africa in Stereo: Modernism, Music, and Pan-African Solidarity"?
One of the things I most enjoyed discovering as I researched my book Africa in Stereo was the active role that women played in many cultural pan-African initiatives, so I'm planning to talk about some of the heroines of the book. I'll start with two South African women who were instrumental in building educational resources for black students at the turn of the twentieth century: Charlotte Maxeke and Nokutela Dube. Some of the other figures in the talk include American artists like Katherine Dunham and Roberta Flack, as well as the Senegalese author Ken Bugul, whose mystery novel Rue Félix-Faure pays tribute to a global blues sisterhood including Cesaria Evora, Aminata Fall, and Billie Holiday. I'm also excited to share work about less prominent figures – women who worked as domestic servants, or appeared anonymously in magazine advertisements and the like. Their voices and labor were essential to the work of building coalitions across black communities in Africa and in the diaspora.
Last year, your poetry collection Carnaval was released as part of APBF's Seven New Generation African Poets chapbook box set, and you were recently named a finalist for the 2015 Sillerman First Book Prize for African Poetry. Your poetry has also appeared in several journals, including Prairie Schooner and The Boston Review. Can you tell us about what inspires you to write poetry? In what ways (if any) do you see it connecting to your critical work, such as Africa in Stereo?
Poetry is often a way for me to express thoughts that I want to disguise in some way but still have my say.
You have written elsewhere about your undergraduate experience studying both comparative literature and classical piano performance, and you continue to focus on music in your scholarly work. How has music influenced or inspired your poetry?
Many of the poems in my first chapbook collection actually started out as program notes for music I was performing. I love a wide range of styles of music, but the piece that inspired the Carnaval poems was a very challenging composition by Robert Schumann. Over the year or so that it took me to learn that music, I often made up images or scenarios in my mind that were like a movie playing along with the music. Of course, that was just the germ of the poems, and as they sprouted and grew (and went through lots of pruning) many of them changed, but that was the inspiration. Other poems I've written are maybe closer to the kind of praise poems Keorapetse Kgositsile has written to musicians like Cassandra Wilson or Nina Simone – they come out of a moving experience listening to a brilliant performer, and I try to put into words what that almost sacred feeling is. Of course, there are many poems that have nothing to do with music at all but just come out of other experiences that trouble or fascinate me.
Can you give us any teasers about the two scholarly books you have in the works: Cassava Westerns: Refiguring the American Frontier Myth in Global Black Imaginaries and Classic Black: Art Songs of the Black Atlantic?
Cassava Westerns probably first hatched as an idea from reading the Guinean novelist Tierno Monénémbo's amazing book Cinema. Set just after independence in a small town in Guinea, the novel revolves around two young boys who spend their days enacting scenes from their favorite Westerns. I was fascinated by how their imaginative lives intersected with this moment of national transition and how Monénémbo uses that context to explore questions about individual agency, generational tensions, and the legitimacy of the law when it hasn't yet been revised significantly from its colonial codes. Those themes then started to crop up elsewhere – in everything from magazine photo comics and Onitsha pamphlet literature to groundbreaking films like Return of an Adventurer by Moustapha Alassane (a Western set in Niger) and The Harder They Come by Michael Thelwell.
The other book, Classic Black, is quite different and returns me to my background in classical music. I'm interested in how composers who have written songs using the poetry of black writers give us a new way to interpret those poems. Some of the poets set to music that I've looked at so far include Paul Laurence Dunbar, Langston Hughes and Leopold Senghor. One way in which my interest in feminist historical recovery work returns in this project is that I'm focusing on a number of wonderfully talented composers including Shirley Graham Du Bois, Florence Price and Amanda Aldridge. What I'm most enjoying about the project is that I am learning and performing some of these songs in lecture recitals. I hope to record those works that aren't commercially available so people can hear and experience this mode of musical poetic commentary.
Your research focuses on the types of cultural exchange that occur across Africa, the Caribbean, and the African diaspora. What do you think the implications are of such cultural exchanges in the global community?
I am often struck by how many of the writers I admire were deeply committed to just such cultural exchanges – Claude McKay of Jamaica, for example, who set many of his works in Harlem and in France and had an amazing ear for the regional accents of characters from Nigeria, Senegal, the U.S. South, and the West Indies. Another example is Samuel Coleridge-Taylor, who didn't know his Sierra Leonean father but wrote music inspired by African American spirituals and South East African folk songs as a way to lay claim to a broader heritage. Being from Zimbabwe, I know that during the struggle for independence there were many people in places like Oakland, Harlem, Kingston, Accra and Dar es Salaam who supported the struggle both materially and politically. While I think it is dangerous to over-romanticize such connections, I also think it would be dangerous to forget them. Having a deep knowledge of the history of exchanges, including their tensions and limitations, is an essential resource for building future exchanges, and in a world in which resources are increasingly concentrated in the hands of a very few, it is essential that we keep articulating that black lives matter everywhere. To me this is not about essentializing race but rather part of responding to history: as peoples who have experienced the most extreme forms of exploitation and dispossession through slavery and colonization, we have a unique historical burden to bear witness to and fight the contemporary forms of such exploitation, even when they are affecting other communities.
What is the last creative work you read that you really connected with?
The last piece of fiction that really shook me was NoViolet Bulawayo's amazing novel We Need New Names, and the last book of poetry was Nod House by Nate Mackey. They are works that don't render everything on a first read, and I love discovering books that I can come back to over and over again.
Tsitsi Jaji was born and raised in Zimbabwe. Currently an assistant professor of English and Africana Studies at the University of Pennsylvania, Jaji's work has appeared in Poetry International, Prairie Schooner, Bitter Oleander, Munyori, Runes, and elsewhere. She is also the author of Africa in Stereo: Modernism, Music and Pan-African Solidarity (Oxford University Press, 2014), a scholarly monograph on which her lecture is based.