---
An Interview with 2015 Sillerman Prize Winner Mahtem Shiferraw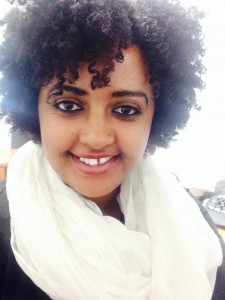 by Brita Thielen
Ethiopian-American poet Mahtem Shiferraw was recently named the winner of the African Poetry Book Fund's 2015 Sillerman First Book Prize for African Poets for her manuscript Fuchsia. The annual prize is sponsored by philanthropists Laura and Robert Sillerman, and previous winners include Clifton Gachagua for his book Madman at Kilifi and Ladan Osman for The Kitchen Dweller's Testimony (available in April 2015). Fuschia will be published as part of the African Poetry Book Series by the University of Nebraska Press and Amalion Press in Senegal, to be released in the spring of 2016.
In the following interview, Shiferraw gives us a peek into her creative process, inspirations, and life as a literary journal editor:
What draws you to write poetry? What inspires your poetry?
This is a very difficult question, and one I never dared to ask myself. The best answer is: everything and nothing. I am inspired by small things, such as the resilience of the last leaf falling from a bare tree, or unusual things, such as the color of dreams. Pain and sorrow fuel a lot of my poems, too, but mostly to carve out the beauty in sorrow and the strength of people in great suffering. These things are extraordinary to me, and they lend themselves in the shape of poems.
Can you describe your writing process?
My writing process is very simple: I write when a poem shows up. This is the easiest way for me because otherwise I'll agonize over not having written, self-induced writer's block, etc. Sometimes a poem comes to me unfinished. I still capture it on the page, but it will spend years being work-shopped and edited before it goes out into the world. Half-formed poems are more difficult because I have to pay attention to where each poem is trying to go instead of taking it where I want it to go. Other times, poems show up fully-fleshed. In those rare times, all I need is a blank surface to extract them (my best poems were written on walls, on the driving wheel, in Post-it notes, any blank surface really).
What do you hope to accomplish with your poetry?
I am not sure. I never thought of my poetry in terms of accomplishment. But when I read other poets, I am mostly left wordless, in awe, inspired. Poetry makes me see things in a different light – in a different perspective – so hopefully I'll be able to capture a fraction of what other poets accomplish.
You were recently awarded the 2015 Sillerman First Book Prize for African Poets. What are your feelings, as an Ethiopian-American poet, on winning an African poetry prize?
Being an Ethiopian-American poet and winning an African poetry prize is an honor for me because it validates the identity I have been trying to carve for myself as a writer and artist. When I first came to the US, I didn't know I was African or black; I did not know those traits were mine to claim. I thought of myself mostly as an immigrant (I still do). With the immigrant experience, a larger and multi-layered transformation alters one's identity. Part of the transformation for me was finding a home for myself and my poetry and self-identifying as African. If there is anything my own poetry has taught me, it is that being African is not only entrenched in my nature, it is an utmost privilege. Thus, winning this prize is a great privilege that allows me to place myself in the continent of literary giants, which is very, very humbling.
What is the last creative work you read that you really connected with?
I am getting ready to submit my first novel, so I've been reading a lot of novels lately. I absolutely loved Téa Obreht's The Tiger's Wife. It's so dense, so poetic, and the magical realism is something I devour eagerly. I also loved Chimamanda Ngozi Adichie's Americanah; I can't get enough of the ruthless honesty of her characters.
I just started Laila Lalami's The Moor's Account. I love historical novels. Warsan Shire's Teaching My Mother How to Give Birth is a pamphlet I read at least once a month; her poetry is so sharp I feel wounded and healed each time. I'm also catching up on authors from the African Diaspora, such as Teju Cole, Dinaw Mengestu, Taiye Selasi, Maaza Mengiste, and NoViolet Bulawayo. It's very refreshing and inspiring to see these authors reshaping the narrative of the continent in bold and brave voices.
Are there any writers or poets who inspire you?
So many! Toni Morrison is a great source of inspiration for both my poetry and prose. I also love Natasha Trethewey, Nikki Giovanni, David St. John, Ralph Angel, Terrance Hayes, Claudia Rankine, Ilya Kaminsky, W.S. Merwin, Gail Wronsky, Mary Ruefle, Jen Bervin, Langston Hughes, and Jericho Brown. I recently discovered Cyrus Cassels and San Francisco Poet Laureate Alejandro Marguía, whose presence is electrifying. Maya Angelou is a force that fuels me. Yusef Komunyakaa is also a great revelation; I discover something new every time I read his poetry.
You are the managing editor and poetry editor for the new literary journal Atlas & Alice. Can you tell us about this experience?
Yes! Actually I'm managing two literary magazines now: Atlas & Alice and The Bleeding Lion. Atlas & Alice was created by a fellow writer with the thought of publishing genre-blurring pieces. We already have two issues out and we're getting ready for the third. The Bleeding Lion is a more macabre journal; hopefully it will be a place for work on the darker side of the spectrum (the inaugural issue will be out this spring). I love everything about working for literary magazines because as an editor, you have the chance to give voice to unpublished pieces and to represent excellent new writers who would otherwise go unnoticed. I am also the designer for both magazines, so I love to connect with each piece and think of it in terms of what it would look like if it was photographed, painted, or illustrated, and what kind of emotions and reactions it would invoke in the reader. Each poem, each piece, was once anomalous and abstract. Sometimes it still is when on the page, so I try to capture that with images and colors. It's an exhausting and thrilling process.
Do you have any advice for other young poets?
When I was a younger poet, I was told to be stubborn in my work. That is what I do best. Whether the world accepts or rejects your poetry and creative work, whether people understand it or not, whether you understand it or not, your work needs you to be stubborn and continue to believe in it all the time. I won't say 'do not be afraid to share your work with the world,' because that fear actually helps you perfect your craft. But once a poem is ready to go out in the world, be its advocate and continue to be stubborn until you find a home for it.
Mahtem Shiferraw is a poet, visual artist, and cultural activist. She grew up in Eritrea & Ethiopia. Her poems have been published in the 2River View, Blast Furnace Literary Journal, Blood Lotus Literary Journal, Cactus Heart Press, Mad Hatters Review, Mandala Literary Journal, and Blackberry Magazine and are forthcoming from Diverse Voices Quarterly and Callaloo Literary Journal. Her prose appears in the Bitter Oleander Press and Long Story, Short Journal. She was nominated for Best of the Net in 2013 and her short story "The River" was a finalist at Glimmer Train Press Open Fiction. She received her MFA in Creative Writing from Vermont College. More information is available at Shiferraw's website: http://mahtemshiferraw.com/.