---
CHAPBOOK CHATS 4: Jamaica Baldwin Talks with "Notes on Resilience" Author Safia Jama
To celebrate the launch of the latest in the New-Generation African Poets Chapbook Box Set series, Saba, and the opening of the 2020 Sillerman First Book Prize in African Poetry submissions period, our book prize coordinator, Jamaica Baldwin, is talking to poets whose chapbooks are included in New-Generation African Poets: A Chapbook Box Set (Saba). The series continues this week with a conversation between Jamaica and poet Safia Jama. The interview was conducted via email and has been lightly edited.
Jamaica Baldwin: Your chapbook Notes on Resilience is published in the gorgeous New-Generation African Poets: A Chapbook Box Set (Saba) that just came out. Is this your first book publication? If so, how does it feel to have your first chapbook published as part of this series?
Safia Jama: Yes, this is my first book publication. I'm honored to be a part of the series—and proud!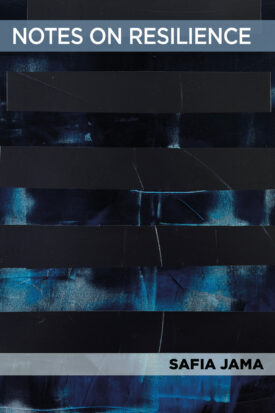 JB: Describe the process of constructing your chapbook. How did you conceive of ordering the collection?
SJ: There is truly nothing like a deadline to assist with the craft of poetry. I had a full-length manuscript and a whole bag of other poems. So, when I got the call to submit to the box set series—and was given two weeks to put a chapbook together—I started from scratch, with an eye on my strongest work. Leading up to publication, Kwame Dawes was a brilliant editor. He really does edit! —which I suspect is a rarity in poetry these days. I learned so much from that experience.
JB: Yes, Kwame is kind of brilliant that way. Did you notice poetic tics once you'd put the poems together? How did you decide which tics were fruitful (interesting in that they accrued throughout the collection in a meaningful way) and which were not?
SJ: This is going to sound irresponsible, but I try not to notice my poetic tics. I shield my inner poet from my inner critic. Yet this conversation reminds me how, a couple years ago, I attended a workshop led by Parul Sehgal. I recall her saying—and I definitely am paraphrasing a memory here—but she basically said that style is how you react to your own limitations. I really like that idea, and it was cool to meet a book critic with such a creative sensibility. This is all to say, I embrace the tics and the hiccups but don't think too much about them.
JB: Not irresponsible at all. I wish I did a better job at shielding my inner poet from my inner critic. What was the most surprising thing about the publication process?
SJ: Every day is a surprise. To be on the other side of a publication that occurred during a global pandemic—and seeing the word "resilience" pop up everywhere—that was a surprise.
JB: Right. I'm often amazed at the way poetry seems to speak to the moment even, and especially when, that wasn't necessarily the intention. I read Notes on Resilience several times and each time found new things to fall in love with. In Hope Wabuke's introduction she says the collection is haunted by the absence and death of the father. As someone with a black father and white mother, as someone with a father who was first absent and now deceased, I found a deep connection to this book. This book is indeed a journey of resilience. When we get to "Public Television" at the end, to the cruelty of bad TV during the father's last months, we learn of the father's vulnerability, of how it is often the simple, sometimes silly, things like sappy Lifetime movies that makes us come undone. You write, "I couldn't blame my father for dying because I understood that this world was no longer for him" (35). That line gutted me. Could you talk about this slow undoing of the father in the book and perhaps how it connects to the speaker's gendered relationship to power?
SJ: I wrote "Public Television" in a dark room. Near the winter solstice. In 2017. Truly a tough year, and the news didn't help. Trump's travel ban got personal—for my Somali dad to have to see that on TV, while he was dying—well, I got pretty mad. And so, I took that grieving anger and transmuted it into a more manageable disappointment in a beloved TV program, the PBS Newshour. Then I seized the opportunity to smile at this, that, and the other pain. That's part of the poem's resistance, for me. Because we work so hard just to remain intact. And we compartmentalize. I didn't want to compartmentalize, I wanted to feel whole.
So, for the poem to crack a smile in the face of everything is in itself, a victory. I'm proud of that leap, which happens near the end of the collection.
JB: You should be proud. It's a wonderful leap. What projects are you working on currently that you are most excited about?
SJ: I've been doing a lot of writing that embraces process not product. Writing as play. Writing outdoors. Also, I have a new poem, a commission, that will drop in October, so I'm excited to unveil that soon.
JB: Ooh, I will keep a look out for that.
This has been an incredibly tough year in so many ways. Yet there have been some unexpected connections, insights and new ways of being in the world that have sprung from this hardship. Is there anything you've learned this year? Any insight, hope, experience, etc., you'd like to share with us?
SJ: Yes, it has been a tough year. Absolutely. And I hope that everyone reading this is being kind to themselves, through it all.
During this time of extreme solitude—and often plain, old-fashioned loneliness—the birds have meant a lot to me. The yellow warblers that passed through in March are now back, yet I have remained in the same place.
This week, I was watching a Great Blue Heron fishing in one of our city parks. Some electric skateboards prompted the bird to fly off—which is a sight to behold because they are so tall! Anyway, I moved on to another quiet spot by the water. And there, I found the same heron, fishing. A kindred spirit. Also, I like the idea of going out into nature and then turning away. Why not let the birds watch you?
JB: Oh, I love that. Turning away from nature as a way of being with nature. Upending the gaze if you will. Anything else you'd like to add about your chapbook, the series, poetry in general, the world, anything at all?
SJ: Just that I'm grateful to have you as a reader, Jamaica. Thanks for chatting.
Safia Jama was born to a Somali father and an Irish American mother in Queens, New York. A Cave Canem graduate fellow, she has published poetry in Ploughshares, RHINO, Cagibi, Boston Review, Spoken Black Girl, and No Dear. Her poetry has also been featured on WNYC's Morning Edition and CUNY TV's Shades of US series. Jama is the author of Notes on Resilience, which was selected for the New-Generation African Poets chapbook box set series (Akashic Books 2020).
Jamaica Baldwin grew up in Santa Cruz, CA. She earned her B.A. in Afro-American Studies from Smith College and her M.F.A. in poetry from Pacific University. Her work has appeared, or is forthcoming, in Third Coast, Prairie Schooner, Hayden's Ferry, Rattle, The Missouri Review, and TriQuarterly, among others. She was the winner of the 2019 San Miguel de Allende Writers Conference Contest in Poetry and received an honorable mention for the 2019 International Literary Award's Rita Dove Prize. Her writing has been supported by Hedgebrook and the Jack Straw Writers program. Jamaica lives in Lincoln where she is pursuing her Ph.D. in Creative Writing (poetry) at the University of Nebraska–Lincoln.