---
Chapbook Chats: O-Jeremiah Agbaakin on a Poet's Curiosity, Vision & Sensibilities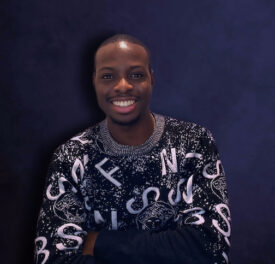 To celebrate the launch of the latest in the New-Generation African Poets Chapbook Box Set series, Tisa, Tryphena Yeboah, is talking to poets whose chapbooks are included in New-Generation African Poets: A Chapbook Box Set (Tisa). This series continues with a conversation between Tryphena and poet O-Jeremiah Agbaakin. The interview was conducted via email and has been lightly edited for publication.
Tryphena Yeboah: Congratulations on being selected as part of the 2023 New-Generation African Poets series! What a wonderful time for you, and a tremendous contribution to the growing body of African poetry in the world. What are your thoughts and feelings about this news?
O-Jeremiah Agbaakin:Thank you so much, Tryphena. It has always been my dream to be a part of this family ever since I read Warsan Shire's Our Men Do Not Belong to Us and subsequent titles in the series. In fact, The Sign of the Ram was my second try with APBF! The intentional work that APBF and their publishing partners pour into the chapbook box set publication, such as the beautiful art cover, the thoughtfully written preface, and the rigorous promotion and support is second to none. I believe it is every young African poet's dream to be a part of the APBF family, so I feel ineffable joy and gratitude for being selected. I am also grateful for the editorial feedback from Kwame Dawes during the early stages. It was like getting a professional editorial consultancy for free! Now, I feel a new sense of responsibility, to hold my small body of work in my own hands as an author, and to persuade others to do as well.
TY: This makes me so glad! I would love to hear about the process of constructing your chapbook. How did you conceive of ordering the collection? Did you discover or build any particular writing habits over the time you spent creating these poems?
OA: The process was quite simple but serendipitous. Most of the poems were written after I just moved to the US for my MFA at the University of Mississippi. I was going through a writer's block and also navigating life as a graduate (and international) student at the time. Fortunately, I got thirty writing prompts from West Branch magazine in April 2021 which completely aligned with a vision of what I was trying to urgently put into a pamphlet. That is, the vision of violence and fragility in masculinity, familial alienation, and violence; especially the violence that we don't see or the violence that has been justified by religion and tradition. It was as if those prompts were just for me! I knew I wanted to anchor the narrative on the attempted violence in the story of Abraham and Isaac, and the God-father and God-son in the story of the crucifixion. However, the oldest poem in the book, "Good Friday" was written in 2019, also in April. April is also my birth month and the Christian holiday month of Easter, so my writing during this period always leans into the exploration of that violence regardless of whatever project I am working on. The ordering was surprisingly easy. The poems are ordered chronologically. In the first draft that I submitted, they were even dated! But Kwame Dawes suggested that I remove them. I tried my best to write the poems very early in the morning and shared them with my friend, Nome Patrick for accountability and encouragement.
TY: Some poems in The Sign of the Ram engage with the work of poets Warsan Shire and Nome Patrick, painter Caravaggio, and musician Yanni. I'm curious to know how other art forms intersect with your writing as well as the writers who have, in one way or the other, influenced your approach to the craft.
OA: I don't think I've been able to write or end a poem without music playing somewhere in the background or a musical resonance. In fact, I have a practice of drafting a poem on my fingers, with a specific number of syllables per line or a beat pattern. I try my best to reproduce the vivid qualities of art painting and music, since I'm such a horrible vocalist (outside the bathroom) and mediocre photographer, in my poetry as another portal of entry and understanding for the reader. The reader cannot always get the 'story' in a poem even if the language is very accessible. There is a feeling that there is more. For me, it's not the story that matters, but the evocation and pleasure it elicits. Also, I know that my obsession lies deeply in the Judeo-Christian tradition. This carries a risk of alienating readers who are not into that. Therefore, I try to ground my poetry, this particular book, in other things that may interest most people; music and musicality being the commonest.
The title itself, The Sign of the Ram, is a double entendre for Aries (my astrological sign) and the literal sign of the ram that redeemed Isaac in the story of attempted human sacrifice. When the prompt for an "Ekphrastic poem" came on day two, I knew it had to be a painting of the binding of Isaac. Because of the tension in that moment. There were many other paintings of the story but Caravaggio's was the most compelling because of his baroque's sensibility of emphasis of attention through distancing, and that represents what I try to achieve in my own poems. Perhaps, what I'm most interested in is not violence itself but the space before it happened and the space after it, the endless loop of push and pull in our human connection. I gravitate towards writers, artists, and musicians with similar sensibility. The Warsan Shire's line that I used as an epigram summed up the whole spirit of alienation that I was battling with during the period of writing the book.
TY: As a selectee for this year's new generation series, you have become part of the APBF African poets "family". What does it mean to be part of a growing body of contemporary poets emerging from the continent?
OA: As the reality continues to sink in, it can feel like a big responsibility! It is frightening to be considered as belonging to any family or generation, more so, this spectacular new generation of African poets. It feels like being marked by the canon. One feels like they've done something that matters in the whole invisibility of writing poetry. It is surreal to be in the good company of the poets that nourished and gave me courage from a distance, such as Clifton Gachagua, D.M. Aderibigbe, Ejiofor Ugwu, Gbenga Adesina, 'Gbenga Adeoba, Leila Chatti, Rasaq Malik Gbolahan, Safia Elhillo, and Warsan Shire, to mention a few. My writing began through a rite of passage, in which we children (many cousins) living in an extended family home told ourselves stories under the moonlight. We eventually moved out into our own house and wrote some of these stories inside school exercise books. Young as we were, we'd tell ourselves these stories with a promise that they were true, even though they were from the imagination. For instance, before the narrator started a story, they'd say: ti agogo enu mi koba dun lemeta, iro ni mo pa; then trapped some air in their mouth, dipped a finger in it and tried to pop it thrice so that it sounded like a bell. If it didn't sound like a bell thrice, then the story was false. I feel that this has not changed. With APBF, the family has only become bigger, again.
TY: What does being an African poet mean to you?
OA: This is tricky because it contains two questions: African and African poet. Being an African poet, especially now far away from home, feels like a heavy consciousness. Not only in my writing, but in my way of life. There's been a flurry of concerns about the 'alienation' and subsumption of African (and Nigerian) poetry and literature into the American culture, with its literary journals and institutions; that with the increasing migration of writers to overseas for MFA programs, we may no longer be able to differentiate American poetry from Nigerian poetry. These concerns are obviously exaggerated. I go into all of my poems with the basic human curiosity, unburdened by these superficial, external anxieties, but by other productive questions, such as: what is this poem teaching me about myself, about the person next to me, about the persons before and after us. How can I give my own voice to this condition? The poem is thus an insomniac child of questions and half-answers; the poet, a citizen of the world, always moving across the geographical, the temporal and the spatial. Yet, I can't deny that I have my bias for the African culture, its Afrobeat, the jollof rice, pidgin English, the very distinct Nigerian and or African zeitgeist. Or for the inimitable poetry of Ejiofor Ugwu. What can we do? Shall we stop moving to legitimize the tyranny of the unnatural borders of the mind? Isn't it a great thing that we have an institution like APBF whose vision is to make visible African poetry? I think what with more institutions like that, these sorts of questions will become more irrelevant. I believe I can continue to express my African identity through other medium. Poetry and art are not bigger than life!
TY: Your poetry chapbook is out in the world and I hope this is not too daunting of a question to ask, but I'm eager to hear what projects you're currently working on and if you have any exciting works in the pipeline?
OA: I just graduated from the University of Mississippi MFA program with my poetry thesis originally titled, The root word of Babble is Babel. I have been working on it since 2017. The collection explores Babel as a site of language disruption, alienation, and as a site of labor and labor exploitation in the discourse of capitalism and environmental degradation. It is on the fourth draft under its present title, Incommunicado. I have been fortunate to place some of the poems from the collection with big journals. I am also synthesizing an idea for a second full length collection that explores music and warfare. My biggest project is perhaps to continue living, loving, asking questions with my work, with or without the reward of publication, prizes, or recognitions.
O-Jeremiah Agbaakin holds a law degree from the University of Ibadan, Nigeria. His poems are recently published or forthcoming in Beloit Poetry Journal, Guernica, Kenyon Review, Pleiades, Poet Lore, Poetry Northwest, RATTLE, West Branch and elsewhere. A recipient of the Tin House Scholarship, he placed for the Grist Journal ProForma Contest, finalist for the Chad Walsh Chapbook Series (Beloit), Black Warrior Review Contest, and the Sillerman First Book Prize for African Poets.
Tryphena Yeboah is a Ghanaian writer and the author of the poetry chapbook, A Mouthful of Home, selected by the New Generation African Poets Series. Her fiction and essays have appeared in Narrative Magazine, Commonwealth Writers, and Lit Hub, among others. She is currently a Ph.D. student at the University of Nebraska-Lincoln, studying English with an emphasis in Creative Writing.