---
Chapbook Chats: Tryphena Yeboah Interviews "A Litany on Loss" Author Tawiah Mensah
To celebrate the launch of the latest New-Generation African Poets Chapbook Box Set series, Tryphena Yeboah is talking to poets whose chapbooks are included in New-Generation African Poets: A Chapbook Box Set (Tisa). This series continues with a conversation between Tryphena and poet Tawiah Mensah. The interview was conducted via email and has been lightly edited for publication.
Tryphena Yeboah: Congratulations on being selected as part of the 2023 New-Generation African Poets series! What a wonderful time for you, and a tremendous contribution to the growing body of African poetry in the world. What are your thoughts and feelings about this news?
Tawiah Mensah: I am more in awe of the possibility than excited I guess. I am in awe that my poems were read by people with in-depth knowledge of poetry and the literary world as a whole, among other poets by the way, and then selected to be a part of this book set where poets like you have been published too. It's an honor to be in such good company!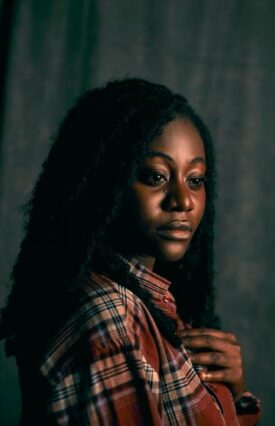 TY: A Litany on Loss interrogates motherhood, silence, religion, and the haunting return of the past. What drew you to these themes and how would you describe your experience reflecting and wrestling with these subjects?
TM: I guess my growth through my teenage experiences and the understanding I have gained now in my 20s. I needed a place to process what I felt in the past and how it has played a role in some patterns in my life. And through poetry, I found a way. I wrote while in denial about a lot of things. For one, I started to realize that the guilt I had put on myself for not being able to connect with my family was not mine alone. I met people with above-average functional families and I realized that I could lay this burden down a little and just be okay with it. Also that I wasn't special.And that I was actually normal. Like it made more sense for my family to be as imperfect as they are. That was the norm. Another thing is how these imperfections shaped how life has been or is being lived through my perspective. This probably explains why I tend to carry a little disappointment or shame along with me in any friendship or relationship, so that when they decide to throw it in my face, I'm not taken by surprise. I already saw it coming and I was born ready! Haha.
TY: Thank you for sharing that, Tawiah. I realize how this preparation for betrayal can seem like a shield, and while I've felt it too, I wonder if this isn't the great cost of love? To be open and laid bare at the risk of being hurt? I'm thinking about C.S. Lewis' words—To love at all is to be vulnerable…That when the guard stays up too long, our hearts, while they will not be broken, will become impenetrable and irredeemable. I suppose the stakes will always be high, and I wish us both courage. Now, the voice in these poems is so direct and personal, having no urge to withhold anything from the reader. Matthew Shenoda, in his introduction to the book, also describes it as detailing your own becoming. I am curious to know about your choice to be vulnerable and perhaps even confessional on the page. And are there any writers you admire that have reinforced this approach in your writing?
TM: I think, even here with this interview, I've been vulnerable. Which I hope is okay. I don't know how to not be. My writing is personal to me. Even when it's someone else's story. I feel like I'm the one telling it, shaping it and giving it life. It is mine, and as a serial overthinker/perfectionist I want it to come out right and true. I want to capture exactly how I feel about whatever I write. But of course, sometimes, I would like to turn it off but writing is the only place I can tell it all and still make the brokenness beautiful, and sound okay.
I admire so many writers including you, Try, Damy Ajayi, Audre Lorde, Warsan Shire, Yrsa Daley-Ward, Upile, and Kopano Matlwa. I love African writers, and the women writers are so magical. The way they tell their stories, the African stories, and of course stories about us! Women! I read Period Pain by Kopano Matlwa just a few years ago and I was stunned at how she carefully, yet heavily, treated the issue of menstruation. I am also reminded of how life would have been different for many women if these books and resources that teach us about our bodies were easily accessible to us. Because really, we grow up knowing nothing about our bodies and allowing the world to tell us. This book is on my TBR for my future children. My son, most importantly, because I want him to grow up seeing and appreciating how remarkable our bodies are as women.
TY: Thank you, Tawiah, that means a lot to me! As a selectee for this year's new generation series, you have become part of the APBF African poets "family". What does it mean to be part of a growing body of contemporary poets emerging from the continent?
TM: That I have a long way to go and I have to actually care and want to do better, to be better. I see that a lot goes into this. And if you want it to mean something, you need to put the actual work in. I'm grateful that I even have a chance to try. Because poetry is beautiful.
TY: What does being an African poet mean to you?
TM: It's like a responsibility to carry the next set of history. Like this time, we have everything we could ever need to record our story. No excuses, we have to do it right.
TY: Your first chapbook is out in the world and I hope this is not too daunting of a question to ask, but I'm eager to hear what projects you're currently working on and if you have any exciting works in the pipeline?
TM: Quite daunting. Considering that I haven't really been writing recently. I'm trying to find a balance between loving my job and loving poetry. Wish me luck! And if you have any advice, please I'm praying you throw some my way.
TY: Of course! I am always cheering you on, Tawiah and I'm sending you my very best wishes! It seems to me you're already on the right path; maintain the good and necessary habit of reading and keep showing up for your work, moment by moment. I can't think of anything better than stewarding well that which we have. It's hard work but also meaningful and deeply rewarding. I am so happy for you, and congratulations once again!
Tawiah Mensah is a native of Ekumfi Narkwa in the Central Region of Ghana. She is a graduate of the University of Ghana, where she double-majored in French and Political Science. Her work has been published in the 2021 Balance Anthology: Equanimity by the Contemporary Ghanaian Writers Series, A Voice is A Voice: Resistance Issue, as well as in Lādē Magazine, based in Chicago.
Tryphena Yeboah is a Ghanaian writer and the author of the poetry chapbook, A Mouthful of Home, selected by the New Generation African Poets Series. Her fiction and essays have appeared in Narrative Magazine, Commonwealth Writers, and Lit Hub, among others. She is currently a Ph.D. student at the University of Nebraska-Lincoln, studying English with an emphasis in Creative Writing.