---
Contributor Spotlight: Nick Makoha's My Father and Other Superheroes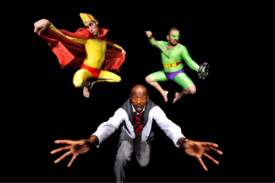 by Brita Thielen
APBF-affiliated performance poet Nick Makoha will soon kick off the 2014-2015 tour of his one-man show My Father and Other Superheroes at the Ilkley Literature Festival on October 17.
My Father and Other Superheroes is an autobiographical performance piece. The show focuses on Makoha's exploration of fatherhood fueled by the birth of his daughter and the absence of his own father as a child. According to Makoha, "The biggest event for me, easily, was having my daughter. I realised that while I was now a dad, I had no idea how to do that job because my father wasn't around when I was growing up." Makoha discovered that part of his admiration for superheroes such as Spider-Man, Superman, and Batman was because they filled the void left by his father, and he returned to these role models when facing his own impending fatherhood. In addition to fatherhood, Makoha believes the show is about "love, forgiveness and hope, which are universal themes."
Born in Uganda, Makoha and his mother fled the country to escape the Ida Amin dictatorship. He currently resides in London and was runner-up in the 2014 Brunel University African Poetry Prize. Makoha is working on his first full-length collection of poetry, The Second Republic, a selection of which is included in his chapbook of the same name in APBF's Seven Generation New Poets chapbook series.
The upcoming UK tour extends from October 2014 to October 2015 and includes performances in Cardiff, Eastleigh, Ilkley, Leeds, London, and Sheffield. Additional information can be found at http://fathersuperhero.com/. The tour is made possible by a grant from Arts Council England.
When asked what he hopes audiences will take away from the show, Makoha said, "There are plenty of boys, and girls, who don't have a father figure and I see how it affects them, their confidence and sense of self-worth. I am not telling this story for me. If anything I want it to belong to the world. I'd love people to find their own truth in it."