---
Eight New-Generation African Poets: A Chapbook Box Set now available!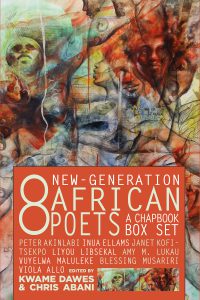 by Brita Thielen
The African Poetry Book Fund is proud to announce the newest poetry chapbook set, Eight-New Generation African Poets, now available from Akashic Books! The box set features eight poetry chapbooks by eight African poets, plus a ninth chapbook by editors Kwame Dawes and Chris Abani that serves as an introduction. Nigerian American visual artist and scholar Imo Nse Imeh produced the artwork for the box set and individual chapbooks.
This annual chapbook set, along with the general work of the APBF, is made possible by generous support from philanthropists Laura and Robert Sillerman, whose annual bequest has continued to fund the work of the African Poetry Book Fund in its publishing and promotion of African poetry.
This year's collection includes the following poetry chapbooks:
Bearing Heavy Things by Liyou Libsekal (Ethiopia)
Bird from Africa by Viola Allo (Cameroon-United States)
Mitu's Spice Tour by Blessing Musariri (Zimbabwe)
A Pagan Place by Peter Akinlabi (Nigeria)
Things We Lost in the Fire by Vuylewa Maluleke (South Africa)
Who Are You Looking For? by Amy M. Lukau (Angola-United States)
The Wire-Headed Heathen by Inua Ellams (Nigeria-UK)
Yellow Iris by Janet Kofi-Tsekpo (Ghana-UK)
Chris Abani writes of the collection in his introduction: "Here in these chapbooks, we welcome you to a new African lyric dip. At once lament, at once protest, at once love song, at once incantation of hope and a clear future, at once entertaining, at once a new direction and a link in a chain of a human African achievement, an unending lineage of light."
Each year, the African Poetry Book Series publishes a box set containing between six and ten individual chapbooks. The chapbooks are selected from African writers, meaning writers born in Africa, who are nationals or residents of an African country, or whose parents are African, who have yet to publish a full-length collection of poetry.
In 2014, APBF released its first chapbook collection, Seven New Generation African Poets, featuring TJ Dema, Clifton Gachagua, Tsitsi Jaji, Nick Makoha, Ladan Osman, Warsan Shire, and Len Verwey. Gachagua and Osman, winners of the APBF Sillerman Prize in 2013 and 2014 respectively, have also published full-length collections of poetry through APBF and the University of Nebraska Press: Madman at Kilifi (Gachagua; 2014) and The Kitchen-Dweller's Testimony (Osman; 2015).
Copies of Eight New-Generation African Poets are available for purchase from Akashic Books, Amazon, and Powell's.