---
Luschei Prize Finalist Feature: Kadija Sesay, Irki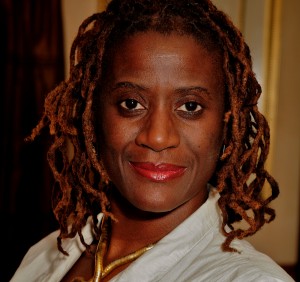 by Brita Thielen
Kadija Sesay's collection Irki (2013; Peepal Tree Press) is one of three finalists selected for the 2014 Glenna Luschei Prize for African Poetry by this year's judge, poet and novelist Chris Abani. This unique pan-African poetry prize, funded by literary philanthropist and poet, Glenna Luschei, was established to promote African poetry written in English or in translation and to recognize a significant book published each year by an African poet. Each year, the prize is judged by an internationally-renowned poet.
Regarding Irki, Abani writes, "In this collection, Sesay attempts to make a new homeland for a self and for others who have lost theirs in the complex migrations and emigrations of Africa . . . . These poems become the memories – close and haunting – of the reader."
For Sesay, poetry is still relevant in contemporary culture around the globe. Sesay says, "Poetry should be part of our everyday lives – it often is – but people forget that it is. If you ask people if they know any poems, they say no, but then they will be quoting lines from poems and lyrics in conversations and speeches, from Shakespeare to Marley – and they do that in Africa, too." She says, "For myself, I just want to be a good poet – to research, study, and write well and to enjoy it along the way."
Kadija Sesay is a literary activist of Sierra Leonean descent. Sesay has edited several anthologies, including Burning Words, Flaming Images (1996); IC3: the Penguin Book of New Black Writing in Britain (2000), co-edited with Courttia Newland; and Write Black, Write British (2005). She is also series editor and co-director of Inscribe, an imprint and writer development program housed by Peepal Tree Press. Sesay established SABLE LitFest in 2005 and is the founder of SABLE LitMag. Her many awards include being named a Woman of the Millennium in 2000, a George Bell Fellow since 1998, and a STARS of Sierra Leone Award (for outstanding women of achievement) in 2006. Sesay is also the recipient of an El Gouna Writers Residency (2011).
Sesay believes poetry prizes "encourage people to read and write more poetry." She continues, "The Glenna Luschei Prize and the Brunel Prize are important, as they show that people are trying and want to write more and better poetry, and it is not that 'Africans don't read' or 'Our people don't read'. . . . If you give people the means, the opportunity, and the possibility – of course they will!"
Irki is available for purchase through Peepal Tree Press and Amazon. All profits will be donated to charities working to fight Ebola in Sierra Leone.
Sesay's Irki is one of three finalists for the prize. The winner will be announced December 1.