---
Luschei Prize Finalist Feature: Kobus Moolman, A Book of Rooms
by Ashley Strosnider
Kobus Moolman's seventh collection, A Book of Rooms (Deep South Books, 2014), is one of three finalists selected for the 2015 Glenna Luschei Prize for African Poetry judged by Gabeba Baderoon, with Joan Metelerkamp's Now the World Takes These Breaths (Modjaji Books, 2014) and Togara Muzanenhamo's Gumiguru (Carcanet, 2014). The prize, established to promote African poetry written in English or in translation and to recognize a significant book published each year by an African poet, annually awards $5000 USD to a winning poet. This year's winner will be announced on January 18.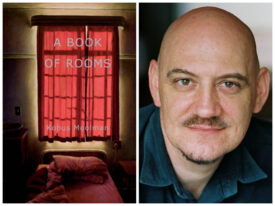 Of finalist Moolman's work, Baderoon writes, "Moolman's poems in this collection are electric, visceral, brilliantly experimental, and profoundly moving."
The title names the book's project cleanly, as each poem unfolds the world of a specific room: The Room of Spillage, The Room of Maybe, The Room of Green, and more. Baderoon writes, "The series of rooms reveal vertiginous realms, 'a new world after the first kiss.'"
And he (the boy with a hole in his heart, at the heart of
this story) feels everything
crumble and slide away beneath his small feet in their differently-
sized orthopaedic boots
and he leaves without saying anything to the girl
Of his own book, Moolman says, "The poems in A Book of Rooms are a radical departure for me. They are all part of one full book-length narrative. I have largely written short poems before, but this book is my first foray into both narrative poetry (poetry that tells one extended and sequential story) and into a book-length collection. The poems are also a brave/foolhardy attempt to shake up the distinction between truth (fact) and fiction, between autobiography and invention. Karl Knausgard called this Autobiographical Fiction. I think of it as a form of lying that tells a deeper truth."
Moolman's sixth collection, Left Over (Dye Hard Press, 2013), was a finalist for the 2014 Luschei Prize. On how it feels to be a finalist two years running, Moolman says, "I am totally overwhelmed to be named as a finalist for the second year. Overwhelmed and honoured too. And grateful."
In considering the potential value of an award like the Luschei Prize, Moolman sees its key function as a record of a varied and challenging community for voices. "I think that a prize of this nature – attached as it is to the African Poetry Book Series," says Moolman, "is critically important in fostering writing from and about this continent. And providing an opportunity for the multiple and varied, challenging and uplifting, stories about the multiple and varied identities that this continent embraces to be heard."
Moolman's A Book of Rooms is one of three finalists for the prize. Each finalist will appear in a separate feature, leading up to the announcement of the winner on January 18.
Kobus Moolman is the author of seven collections of poetry, and several plays. He has won almost every poetry prize offered in South Africa: the Ingrid Jonker prize, the PANSA award, the South African Literary Award, the DALRO poetry prize and the Sol Plaatje European Union Poetry award. He teaches creative writing at the University of KwaZulu-Natal.
Read more about Kobus and his work at Poetry International, and purchase A Book of Rooms online from UKZN Press, an Indie Bookstore, or Amazon.