---
Luschei Prize Finalist Feature: Togara Muzanenhamo, Gumiguru
by Ashley Strosnider
Togara Muzanenhamo's second collection, Gumiguru (Carcanet Press, 2014), is one of three finalists selected for the 2015 Glenna Luschei Prize for African Poetry judged by Gabeba Baderoon. The prize, established to promote African poetry written in English or in translation and to recognize a significant book published each year by an African poet, annually awards $5000 USD to a winning poet. This year's winner to be announced on January 18.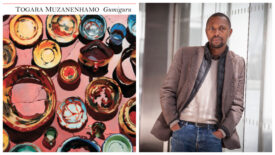 Of finalist Muzanenhamo's work, Baderoon writes, "Gumiguru is extraordinarily good, a second collection that achieves every promise. There are too many exquisite lines to recount – all are richly sensory and enviably well-crafted: 'the drowned end of a dark passage-way,' 'the gentle stain of shadows,' 'ash and dust/bitter on the tongue,' 'still as a stone holding its breath,' 'the sky,/streaked with banners of cloud.'
"This collection," Baderoon concludes, "rewards several rereadings, its excellence only deepened by returning."
Muzanenhamo says of his work in this collection: "The poems in Gumiguru distill the experiences of a decade into one calendar year. The collection is quite different from my first book, Spirit Brides, which was vast in its geographies – with poems set in Iceland, the Netherlands, Brazil, Zimbabwe, France, and other locations. With Gumiguru, I wanted the poems to flow thematically through the location of one country; I thought I could achieve this by using the rural landscapes of Zimbabwe as the backdrop of the poems and the Shona agricultural calendar as the timeframe of the book." Indeed, Gumiguru is the tenth month of the Shona calendar, "a month of dryness and heat," as the book's description explains, "before the first rains fall and rejuvenate the land."
Unlike Muzanehamo's first collection, Spirit Brides, rooted in prose poem and free verse, the majority of the poems in Gumiguru use a variety of rhyming schemes and fixed verse templates.
Of being named a finalist for the prize, Muzanehamo says, "It's an absolute honour to be named beside such accomplished poets like Joan Metelerkamp and Kobus Moolman."
On what the Glenna Luschei Prize for African Poetry (the only one of its kind) can do for African poets, African poetry, and poetry at large, Muzanenhamo notes, "There are very few resources or awards to encourage African poets to persistently strive to develop their craft." He goes on to say, "I believe the prize offers a unique platform for African poetry to be presented and shared with the wider world…. The Glenna Luschei Prize for African Poetry will certainly inspire and motivate poets, writing now and in the future, to keep working at their art." And the prize won't only influence poets, but readers, too. "I believe the prize will also alert poetry lovers around the world to poetic voices they may not be familiar with."
Muzanenhamo's Gumiguru is one of three finalists for the prize. Each finalist will appear in a separate feature, leading up to the announcement of the winner on January 18.
Togara Muzanenhamo was born to Zimbabwean parents in Lusaka, Zambia in 1975. He was brought up in Zimbabwe, and then went on to study in The Hague and Paris. He became a journalist in Harare and worked for a film script production company. His work has appeared in magazines in Europe, South Africa and Zimbabwe, and was included in Carcanet's anthology New Poetries in 2002.
Read more about Togara and his work at Poetry International, and purchase Gumiguru online from Carcanet Press, an Indie Bookstore, or Amazon.