---
MAHTEM SHIFERRAW NAMED WINNER OF 2015 SILLERMAN FIRST BOOK PRIZE FOR AFRICAN POETS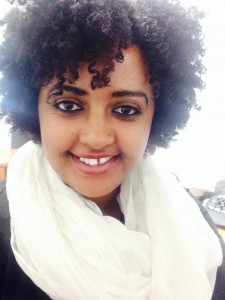 by Brita Thielen
The African Poetry Book Fund and Prairie Schooner are pleased to announce that Ethiopian-American poet Mahtem Shiferraw has been named the winner of the 2015 Sillerman First Book Prize for African Poets for her manuscript, Fuchsia. Shiferraw will receive a $1000 cash award and publication of her manuscript as part of the African Poetry Book Series by the University of Nebraska Press and Amalion Press in Senegal, to be released in the spring of 2016. The Sillerman Prize is sponsored by philanthropists and funders of the African Poetry Book Fund Laura and Robert Sillerman, whose annual bequest has continued to fund the work of the African Poetry Book Fund in its publishing and promotion of African poetry.
Of winning the prize, Shiferraw says, "I am extremely humbled and honored to have won the Sillerman; the fact that my poems will finally have a life of their own after so much wandering is beyond anything I could ever have hoped for."
Kwame Dawes, Director of the African Poetry Book Fund and Editor-in-Chief, says, "Every year, we wonder where the new and dynamic voices will emerge from to grab our attention, and this year has been no different. Shiferraw's verse is elegantly formed work that explores with sophistication the complexities of exile and return, of memory and hope in the future through sharply-honed images, and through a vulnerability that is haunting and disarming."
Mahtem Shiferraw is a poet, visual artist, and cultural activist. She grew up in Eritrea & Ethiopia. Her poems have been published in the 2River View, Blast Furnace Literary Journal, Blood Lotus Literary Journal, Cactus Heart Press, Mad Hatters Review, Mandala Literary Journal, and Blackberry Magazine and are forthcoming from Diverse Voices Quarterly and Callaloo Literary Journal. Her prose appears in the Bitter Oleander Press and Long Story, Short Journal. She was nominated for Best of the Net in 2013 and her short story "The River" was a finalist at Glimmer Train Press Open Fiction. She received her MFA in Creative Writing from Vermont College. More information is available at Mahtem's website: http://mahtemshiferraw.com/.
The title poem of Shiferraw's collection, "What is Fuschia?" is excerpted below:
And then, you ask, what is fuchsia – and there's a faint smile, a
sudden remembrance, an afterthought in hiding, forgotten smells
of wild flowers and days spent in hiding, in disarray. And mulberry
daisies carried by phosphorescent winds into the warm skin of sleeping
bodies; moments spent between here and there, pockets of emptiness –
without sound, without reckoning.
Shiferraw is the third poet to win the annual Sillerman Prize after Clifton Gachagua of Kenya for his book, Madman at Kilifi, and Somalian-American poet Ladan Osman, whose winning book, The Kitchen Dweller's Testimony, will be released in April 2015. The winner of the annual Sillerman Prize is selected by the six-person APBF editorial team: Chris Abani, Matthew Shenoda, Bernardine Evaristo, John Keene, Gabeba Baderoon, and Kwame Dawes.
The finalist for this annual prize was the Zimbabwe-born poet Tsitsi Jaji, for her manuscript, Beating the Graves. The judges also made special mention of the Nigerian poet D.M. Aderibigbe for his manuscript, My Mother's Song and Other Similar Songs I Learnt.
More information about the Sillerman First Book Prize for African Poets and other APBF initiatives is available here on the APBF website: https://africanpoetrybf.unl.edu/. Or, stay connected on Twitter or Facebook. You can also find more about Prairie Schooner at http://prairieschooner.unl.edu/.