---
Poet Matthew Shenoda to Give Reading at UNL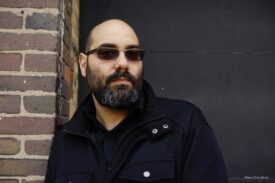 Award-winning poet Matthew Shenoda will give a public reading of his work on April 30 at an event co-sponsored by the African Poetry Book Fund at the University of Nebraska-Lincoln.
The event will take place at the Great Plains Art Museum from 7:00 to 8:30 and is free and open to the public. Shenoda will sign copies of his books after the reading, during a reception to follow. The event is presented through a partnership between the Department of English and APBF, along with other UNL sponsors including Prairie Schooner, the Institute for Ethnic Studies, and African-American and African Studies. "Matthew Shenoda belongs to a small group of truly brilliant and important poets writing in the United States today," said Kwame Dawes, director of the APBF and the UNL Creative Writing program, and Prairie Schooner Editor-in-Chief. "Shenoda's poetry manages to achieve that combined grace of deep wisdom and humility, and in the process, he offers us poems that speak to our times in elegant and thoughtful ways. He is also a generous and diligent academic, literary advocate, administrator and teacher—a combination that is quite rare in someone so young. It is exciting to have him come to campus. We are in for a treat."
Shenoda is the author of three books, most recently Tahrir Suite: Poems (TriQuarterly Books/Northwester University Press, 2014). His debut, Somewhere Else (Coffee House Press) was named one of 2005's debut books of the year by Poets & Writers and won a 2006 American Book Award.
Shenoda lectures widely and has taught extensively in the fields of ethnic studies and creative writing. His work has appeared in a variety of newspapers, journals, radio programs, and anthologies. He has been twice nominated for a Puschart Prize and his work has received support from the California Arts Council and the Lannan Foundation. Additionally, Shenoda has served on the Board of Directors of several arts and education organizations and is a founding editor of the African Poetry Book Fund.
To learn more about Shenoda, his books, and his most recent activities, visit his website, http://www.matthewshenoda.com. To learn more about Prairie Schooner, visit http://www.prairieschooner.unl.edu.