---
Uganda Poetry Library Official Opening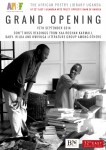 The African Poetry Library- Uganda announces their grand opening in Kampala. The event coincides with the #BNPoetryAward 2014 International Festival.
On Monday 15 September at 10 am, poets, writers, readers, artists and the general public are invited to witness the launch of the first poetry library in Uganda. With close to 2,000 books donated by African Poetry Book Fund, hosted by 32°|Ugandan Arts Trust library, they will unveil this poetic miracle.
During the launch, poets from Poetry in session, Femrite, Lantern Meet of Poets and the shortlisted poets of the #BNPoetryAward 2014 will perform and read poetry to mark this grand launch.
Many thanks to our hosts at 32°|Ugandan Arts Trust, Ugandan poets now have a place to soak in poetry. The event has been organized by Fred Batale, Librarian, Uganda Arts Trust and Poet Beverley Nambozo Nsengiyunva.
Event Details
Monday September 15th
32°|Ugandan Arts Trust 
Contact:Fred Batale | 32°|Ugandan Arts Trust |
Plot 2239
Ggaba Road
Kansanga,
Kampala
+256 784 924 513 (UG)
+256 772 200 957 (UG)
+44 7944 773066 (UK)