---
On Writing from Places of Joy & Grief: A Conversation with Rabha Ashry
To celebrate the launch of the latest in the New-Generation African Poets Chapbook Box Set series, Tisa, Tryphena Yeboah, is talking to poets whose chapbooks are included in New-Generation African Poets: A Chapbook Box Set (Tisa). This series continues with a conversation between Tryphena and poet Rabha Ashry. The interview was conducted via email and has been lightly edited for publication.
Tryphena Yeboah: Congratulations on being selected as part of the 2023 New-Generation African Poets series! What a wonderful time for you, and a tremendous contribution to the growing body of African poetry in the world. What are your thoughts and feelings about this news?
Rabha Ashry: It's so exciting, and feels so affirming, to be part of such a talented cohort, and to find myself on this side of such a rich and vibrant tradition.
TY: Much like its title, Grief and Ecstasy includes poems that engage with loss and grief, and love and pleasure. Can you talk about the process of organizing the collection and how you thought about holding and connecting such different, contrasting themes?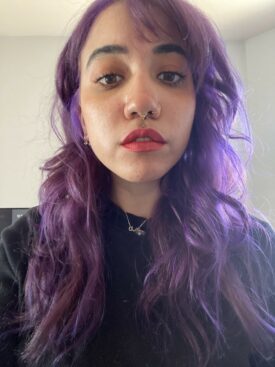 RA: When I was putting together this collection I was experiencing a lot of grief, and I was also starting to come out of that grief and find some joy on the other side of it. I wanted to put together a collection that could speak to both, so I was thinking of the five stages of grief, and how acceptance is often understood to be the last. I wanted that acceptance to not just feel like relief, but ecstasy. Those extreme emotions live hand in hand for me and make up the two poles that my experiences swing from and to as an immigrant, living in the diaspora, after growing up in the SWANA region. 
TY: You write about what it means to inhabit the body, and in poems like "breakfast" and "omission," you explore the body as a home, a language. On the subject of poetics of the body, are there particular poets (or poems) that have shaped your approach to writing about the body?
RA: I am always and forever inspired by Safia Elhillo's work, who, in her most recent book, Girls that Never Die, uses the body as a vessel for the poem, and for the story of the poem. The body becomes its own throughline and exploration. I also love the work of Leila Chatti, who's collection Deluge centers around the body and its afflictions in a beautifully articulated visceral way.
TY: As a selectee for this year's new generation series, you have become part of the APBF African poets "family." What does it mean to be part of a growing body of contemporary poets emerging from the continent?
RA: The breadth of talent coming out of the region never ceases to amaze and impress me and it astounds me that I too am part of that growing body.
TY: What does being an African poet mean to you?
RA: Living in the diaspora, it is up to me to put my Egyptianness to practice, to seek out the Arabic language, or to find community with other BIPOC artists. writing about home, and writing about language, are the ways in which I can feel and flex my Egyptianness while so far from my home country. Being an African poet means keeping those languages, traditions, cultures, and art practices present and unmissable in my work and in my life. 
TY: Your second chapbook is out in the world and I hope this is not too daunting of a question to ask, but I'm eager to hear what projects you're currently working on and if you have any exciting works in the pipeline?
RA: I am working on a couple of things right now; editing and finishing my first full length poetry manuscript, and a prose project that is still in its beginning stages.
Rabha Ashry is Egyptian, from Abu Dhabi, and based in Chicago. She is the recipient of the Brunel International African Poetry Prize 2020. Her chapbook, Loving the Alien, was published by Black Sunflowers in 2021. Her work has been published in the Oyez review, Collected 2018, Postscript Magazine,and Strange Horizons.
Tryphena Yeboah is a Ghanaian writer and the author of the poetry chapbook, A Mouthful of Home, selected by the New Generation African Poets Series. Her fiction and essays have appeared in Narrative Magazine, Commonwealth Writers, and Lit Hub, among others. She is currently a Ph.D. student at the University of Nebraska-Lincoln, studying English with an emphasis in Creative Writing.