---
On Artistic Expression & the Audacity of Language: A Conversation with Jay Kophy
To celebrate the launch of the latest in the New-Generation African Poets Chapbook Box Set series, Tisa, Tryphena Yeboah, is talking to poets whose chapbooks are included in New-Generation African Poets: A Chapbook Box Set (Tisa). This series continues with a conversation between Tryphena and poet Jay Kophy. The interview was conducted via email and has been lightly edited for publication.
Tryphena Yeboah: Congratulations on being selected as part of the 2023 New-Generation African Poets series! What a wonderful time for you, and a tremendous contribution to the growing body of African poetry in the world. What are your thoughts and feelings about this news?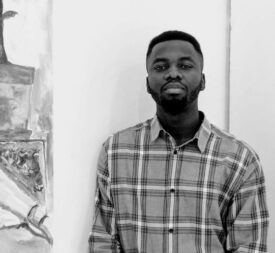 Jay Kophy: Thank you Try! It's an amazing moment for me. I've always wanted to be a part of this series and getting in is a huge encouragement for me to continue what I'm doing. Sometimes all of this feels surreal and funny, particularly as I stumbled into poetry after a friend dared me to write a poem. I have always held great admiration for the poets this series has published, and to be included among them is an immense honor. The fact that the esteemed editors, Professor Kwame Dawes and Chris Abani, whom I regard as mentors and exceptional instructors from afar, have read and selected my work, is an accomplishment that fills me with joy.
TY: Maceration explores identity, ruin and loss, memory and history, as well as the Ghanaian culture and conditions of living. What drew you to these themes and how would you describe your experience reflecting and wrestling with these subjects?
JK: Maceration, as a collection, embodies the profound impact of the observation and recognition of loss and how it shapes and remakes us, sometimes into new things. Throughout the creative process, certain poems compelled me to reflect on how the loss of one element can manifest in diverse forms, propelling individuals in unexpected directions, particularly when there is a desire to forget what has been lost. 
In Ghana, the act of deliberately suppressing memories is often employed as a means of forgetting so as not to open old wounds. However, this approach leads to an even greater loss, as it creates a void where the foundations of our identity lack the strength and awareness to engage with ourselves and even other cultures without diminishing. The consequence is that our stories aren't adequately transmitted from one generation to another, resulting in a deficiency of language and identity preservation. 
This brings to mind the inception of the Volta Lake, which uprooted communities, fractured cultures, fractured languages, and fractured identities. Regrettably, this disconnection has persisted for nearly two decades, to the point where I sometimes feel like a stranger in my homeland. Yet, I firmly believe that there is a remedy, and it lies in language and the sharing of stories. I consider them the strongest pillars upon which we can construct resilient identities capable of withstanding whatever loss takes away.
TY: Your work engages with the work of several other poets including Natalie Diaz, Romeo Oriogun, Wanda Coleman, and Chris Abani. I'm curious to know the writers who have, in one way or the other, shaped your writing and have influenced your approach to the craft.
JK: I would like to begin by expressing my deep admiration for contemporary Ghanaian poets Kofi Anyidoho and Kofi Awoonor. Their profound influence on me cannot be overstated, especially considering my Ewe heritage.
I must also acknowledge the invaluable lessons I have assembled from poets such as Danez Smith, Safia Elhillo, and Jericho Brown. Through studying their work, I have acquired a profound understanding of poetic forms and the audacity to experiment with language. I must also mention Ilya Kaminsky, an amazing poet I greatly admire, whose poetry continues to captivate and inspire me. His use of fabulism in his collection, Deaf Republic, reminds me of the oral tradition of storytelling and poetry in Ghana.
I would also have to highlight the remarkable work of Chris Abani and its influence on me. His works contain so much mystery and awe that sometimes it's as if he's about to reveal the face of God. His use of language is one that I have always admired and his collection Sanctificum is one that I always return to.
TY: As a selectee for this year's new generation series, you have become part of the APBF African poets "family".  What does it mean to be part of a growing body of contemporary poets emerging from the continent? 
JK: Being a member of this community of emerging African poets is truly a privilege. I am constantly inspired by the dedication we all demonstrate, not only through our writing but also in our efforts to foster a vibrant literary landscape. We come together to share knowledge, organize workshops, curate literary magazines, and even initiate prestigious competitions. This united spirit and the genuine desire to uplift one another fills me with immense pride and out of this, beautiful friendships have been established.
TY: What does being an African poet mean to you?
JK: To me, being an African poet involves highlighting the essence of the human experience and condition through the employment of African elements as the medium of expression. In one of his songs, Kendrick Lamar expressed, "I don't make black music, I don't make white music, I make music about everyday life," and yet Lamar's music predominantly encapsulates the black American experience. From this, I interpret that authentic artistic expression surpasses the confines of the classifications we have constructed for ourselves, even though we may perceive and communicate it through a specific lens. 
TY: Your chapbook is out in the world and I hope this is not too daunting of a question to ask, but I'm eager to hear what projects you're currently working on and if you have any exciting works in the pipeline?
JK: I have been working on a full-length manuscript, albeit at a slow pace, which explores and expands upon the themes introduced in this chapbook. Additionally, I have been collaborating with my team at the Contemporary Ghanaian Writers' Series (CGWS) on an anthology of Ghanaian poetry, commemorating over 25 years of poetic excellence in Ghana. Furthermore, CGWS is actively engaged in a chapbook series dedicated to showcasing the works of emerging, unpublished poets from Ghana. Our primary objective within CGWS is to establish a platform that empowers these budding writers to contribute, connect, and foster the growth of Ghanaian literature. We are hopeful that next year will mark significant progress in these ongoing projects, enabling us to bring our visions to life.
Jay Kophy is a Ghanaian poet whose poems have been featured and are forthcoming in literary magazines such as AGNI, Lolwe, FourWay Review, PidgeonHoles, Indianapolis Review, Glass Poetry, Tampered Press, and many others. He is the winner of the inaugural Samira Bawumia Literature Prize in poetry. He is also the author of Walking on Water, selected by the Library of Africa and the African Diaspora (LOATAD) and Light Factory Publications (LFP) for the Reading the Migration Library (RML) series.
Tryphena Yeboah is a Ghanaian writer and the author of the poetry chapbook, A Mouthful of Home, selected by the New Generation African Poets Series. Her fiction and essays have appeared in Narrative Magazine, Commonwealth Writers, and Lit Hub, among others. She is currently a Ph.D. student at the University of Nebraska-Lincoln, studying English with an emphasis in Creative Writing.